Gold Standard GAMSAT Courses: Adelaide
Join us at the University of Adelaide. Get excited about learning again.
The most practice questions (6000+), the most videos (300+), the most full-length mock exams (15), and the most experience teaching GAMSAT courses in Adelaide. The best GAMSAT preparation courses in South Australia just got better!

N

"This course is absolutely perfect. Felt overwhelmed for all three sections before I started studying for the GAMSAT, and this helped me so much for all of them. . ."

N

"Excellent preparation materials including the book, videos, and practice exams…Thanks so much for all the effort you put in. Well worth investing in."

D

"… the youtube breakdowns of EVERY SINGLE ACER past paper for FREE is truly a godsend for anybody who is studying for GAMSAT. For someone from a Non-Science Background such as myself, having these resources available to help me understand why I was getting questions wrong, and to provide a possible method for solving each of these questions was amazing. I can't thank Dr Ferdinand and his team enough for his work."

J

"When I decided to take GAMSAT, I was completely lost and did not know where should I start since I did not have a science background... I purchased the book that guided me around main topics and the HEAP book with 10 practise tests, I watched every single available webinar, I did live courses on campus, and used essay-correction services. I enjoyed listening to Dr Ferdinand because he does it with passion and a genuine desire to help students... I could not be more satisfied and confident with my preparation."

I

"I just received my GAMSAT results and I'm over the moon with the results! I certainly would not have been able to do it without your help!"
Read more testimonials

N

"Gold standard was a great help - particularly their live course with Dr Ferdinand who was very interactive, experienced and knowledgeable, acer YouTube solutions and multiple practice exams... Also really appreciated that they always go to the effort of running mock exams, live classes etc for Adelaide cohort even though it can sometimes be much smaller than other states! Great and very reasonable company to deal with!"

I

"The dedication, conscientious student-centred approach and excellent collaboration within the team are evident in the comprehensive range of their service – the textbooks, Question of the Day, webinars, videos, work solutions for practice tests, the Heaps book, the Live Course and the Essay Correction Service, to name a few. . ."

C

"Thank you Dr Ferdinand and the GS team. I sat GAMSAT for the first time in March 2018 and it would've been a complete disaster without your help. I come from a non-science background and after doing a lot of research into the GAMSAT courses that are available I chose Gold Standard. The content is great but I found the direction on how to approach the test the equally as useful. I've heard stories from people who have done other GAMSAT courses and they weren't provided with the depth of instruction and support that I received from GS."

K

"Explanations were very thorough (the youtube videos are SO helpful, especially since they go through the step-by-step process). Gold Standards' materials allow us students to develop sound reasoning skills and fundamental knowledge :) Real life-saver."

N

"So thankful for this course! No better way to study for the GAMSAT! You guys have thought of everything."

B

"I must say Dr Ferdinand and the Gold Standard team have been an invaluable resource. These resources have made the seemingly impossible quite possible and I cannot thank you enough; the textbooks, videos and these endless hours of youtube content have been a Godsend. Thank you so much!"

A

"I don't know how I would have prepared without Gold standard!!!!! Absolutely amazing especially all the Youtube videos with worked solutions, the textbook and online videos and chapter review questions. Would HIGHLY recommend if you are serious about preparing for GAMSAT!!!"
Read more testimonials
Gold Standard GAMSAT:
Learn • Revise • Practice
Learn from our experience:
Join us in 2021 for our blended GAMSAT preparation courses in Adelaide
GAMSAT Books

•

Videos

•

Live, Interactive Online Tutorials

•

Essay Correction

•

Mock Exams
Adelaide • Sydney • Melbourne • Perth • Brisbane • Dublin • Edinburgh • London
GAMSAT Courses Adelaide by Gold Standard will be entering our 10th successful year in Adelaide. We are expanding from our original 4 full days of class to a brand new height of 8 full days, with no tuition fee increase. We continue to offer you the opportunity to specifically address any area in your GAMSAT prep that requires improvement by attending one full day of our interactive GAMSAT courses for just $199, which includes course handouts. For the price of hiring a GAMSAT tutor, you can be taught by the primary author of our 1820-page GAMSAT textbooks.
From our free monthly webinars to our extensive 70+-hour GAMSAT Video Library (included in our Complete Course below) to our unprecedented 100 hours of class time for our live GAMSAT Courses in Adelaide, come learn from our experience.
If you wish to attend in another city (different cities offer different dates)
Gold Standard GAMSAT Mock Exam Adelaide: Key Points
Our GAMSAT courses are taught by Dr. B. Ferdinand who is the author of the first GAMSAT textbook ever written, the Gold Standard GAMSAT; has 10 years of experience teaching GAMSAT courses; and he produced more than 100 GAMSAT YouTube videos with step-by-step worked solutions for the official GAMSAT practice materials (published by ACER). Dr. Ferdinand is known as a dynamic lecturer who makes difficult concepts easier to understand. You can watch clips from his lecture at USyd preparing students for the medical school interview and/or testimonials from students after his recent GAMSAT course at UQ.
Join us for problem-based learning with an experienced GAMSAT expert.
Virtual Reality Mock Exams in preparation for the September 2021 sitting.
Date
August 21 and 28, 2021
Time
9 am to 5 pm
Location
Online

*Last minute registrants should arrive at least 15 minutes before class begins with payments in the form of certified cheque, cash, or money order. Please bring your ACER GAMSAT practice booklets (or e-book access with your electronic device or print-out) so that if time is left at the end, worked solutions can be presented in class.
Besides our GAMSAT course syllabus and schedule, Dr. Ferdinand will hold small group tutorials either before class or during lunch, or after class, so that he can be available for further discussions. On the morning of the first day, students will be assigned to which small group they would belong.
The following topic list or syllabus is not meant to be exhaustive nor definitive. Consider it a guideline for topics that we are expected to cover as a result of the stimulus materials reviewed in class. Also note that an essential GAMSAT skill is the analysis and interpretation of graphs, diagrams and tables, which is an integral part of our GAMSAT courses and videos.
BIOLOGY - The Eukaryotic Cell, Plasma Membrane, The Cell's Interior, DNA, The Cell Cycle, Protein Synthesis, Viruses, Prokaryotes vs. Eukaryotes, Bioenergetics, The Neuron, The Nervous System, The Endocrine System, The Circulatory System, Blood Composition, Lymphatic and Immune Systems, The Digestive System, The Excretory System, Gametogenesis (Meiosis), Genetics.
ORGANIC CHEMISTRY - Stereochemistry, IUPAC Nomenclature, Principles of Reaction Mechanisms, The Carbonyl Group, Acetals/Ketals, Substitution, Carboxylic Acids, The Tetrahedryl Intermediate, Amides, Amino Acids, Protein Structure, Elimination, Alkenes, Free Radicals, Redox Reactions, Aromatic Rings, Spectroscopy, Nuclear Magnetic Resonance, Elimination vs. Substitution
GENERAL CHEMISTRY - The Atom, The Periodic Table, Chemical Bonds, Hydrogen Bonds, Ionic and Covalent Bonds, Lewis Dot Structures, Multiple Bonds, Resonance, Molecular Polarity, Hybridization, Hybrid Orbitals, Gases, Avogadro's Law, Equation of State, Graham's Law, Liquids, Maxwell's Distribution Plot, Boiling, Melting Points, Le Chatelier's Principle, Solutions, Phase Diagrams, Raoult's Law, Boiling, Freezing Point Changes, Acids and Bases, Titrations, Oxidation Numbers, Solubility Product, Thermochemistry, Calorimetry, Thermodynamics, Hess's Law, Rate Law, Energy Diagrams, Electrolysis, Electrochemical Cell
PHYSICS - The Atom, Nuclear Reactions, Radioactive Decay and Half-Life, Electricity vs. Gravity, Electric Circuits, Kirchhoff's Laws, Characteristics of Waves, Diffraction, Optics, Sound, Doppler Effect, Electromagnetism, Electromagnetic Spectrum, Reflection, Refraction, Thin Lens, Snell's Law, The Critical Angle, Force and Motion, Weight and Units, Friction, Applying Newton's Laws, Trigonometry, Projectile Motion, Work, Circular Motion, Work-Energy Theorem, Energy and Entropy, Momentum, Law of Torques, Fluids, Fluids in Motion, Archimedes' Principle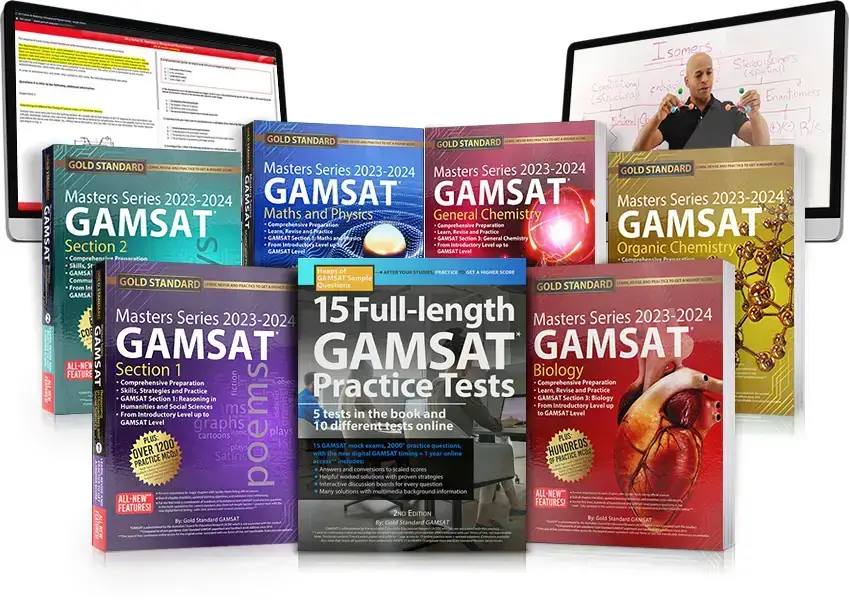 Some companies photocopy PowerPoint slides from class, and non-GAMSAT specific Wikipedia images and articles, bind it together and call that a course textbook. We are the first and only company to produce a professional, colour, hardcover textbook which has won an International Book Prize and has helped thousands of students gain admissions to medicine. As the GAMSAT evolved, our 712-page textbook spawned 2300 pages across 7 separate softcover books. You do not have to take our word about the quality that we offer, you can browse through the books yourself at your local uni bookshop, or look at some sample pages by clicking on the front covers of the books below. We have been a leader in GAMSAT preparation for years.
We offer four times more online videos (currently: 300+), twice the number of practice tests (currently: 15), and far more class time (100 hours) than any of our closest 'competitors'. We continue to be the only company to offer iPhone and Android apps and MP3s – all of which are included in our Complete Course Packages (also available separately).
You will be taught by the author of the Gold Standard GAMSAT textbook which is a level of experience unmatched. You can even sample his teaching style on YouTube, Vimeo, or GAMSAT-prep.com prior to class which is also unprecedented. All students are also welcome to further experience our teaching methods by joining our popular and free monthly GAMSAT webinars.
Distribution in Australia, NZ and Asia
Woodslane Pty Ltd, 10 Apollo Street Warriewood, NSW 2102 Australia, ABN: 76 003 677 549
learn@gamsat-prep.com
Track your order: +612 8445 2300
GAMSAT Course Inquiry: +612 8005 0922
"From the comprehensive textbook, to the online tests, videos and forum, Gold Standard played a huge part in my 74 GAMSAT score."
Maddie Wallis, Medical Student, University of Sydney
"I received an overall GAMSAT score of 72 with individual scores of 73, 68 and 74 in section 1, 2 and 3, respectively. I cannot thank Dr. Ferdinand (and everyone at GAMSAT-prep) enough for providing a course that really delivers!"
Hannah Wilson, BA Applied Sciences, Queensland University of Technology
"I cannot praise your program enough; it helped immensely…"
Zane Brown, Medical Student, Griffith University
"I completed the GAMSAT Prep course in Perth: 71 overall in the GAMSAT, with a score of 77 in the science section."
M.C., Medical Student, University of Western Australia (UWA)
"The [Gold Standard] GAMSAT Prep package is an invaluable studying tool."
Theo Mahendradatta, former President. Student of Medical Science Society (SMSSOC) UNSW, Sydney
"I went to one of the science reviews and used the online essay correction and practice tests. I scored 74 overall, which I was stoked with, and I know I felt so much more comfortable because of the resources provided."
Katherine Thomas, Bachelor of Civil Engineering Class 2013, University of Western Australia; Medical School Candidate, 2017 Entry
"[The Gold Standard Team was] an invaluable source of guidance in my GAMSAT preparation. All my essays received comprehensive feedback and definitely contributed to my highest score in Section 2. Thank you very much!"
Sindhu Parthasarathy, Doctor of Dental Surgery Class 2018, Melbourne Dental School, University of Melbourne
Contact Information
Distribution in Australia, NZ and Asia
Woodslane Pty Ltd, 10 Apollo Street Warriewood, NSW 2102 Australia, ABN: 76 003 677 549
learn@gamsat-prep.com
Track your order: +612 8445 2300
GAMSAT Course Inquiry: +612 8005 0922